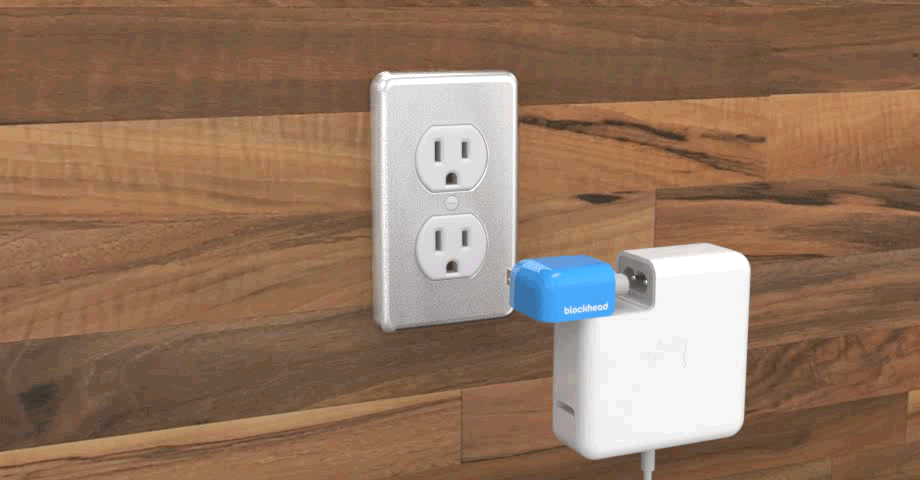 Blockhead drew a lot of attention this month. Over 60 separate write-ups and coverage around the globe, including surprising places like Popular Mechanics, Time, and (gasp) Daring Fireball. However, it seemed to get the most attention on social sites. For a short time Friday evening, Blockhead trended on Facebook - a feat we thought unreachable for a boutique operation like ours. It even received over 1,100 up-votes on one of our favorite sites, Product Hunt.
First, THANK YOU to everyone who noticed Blockhead somewhere and shared it. If you left a comment on a post, thank you. If you mentioned it on Twitter, thank you. If you were a part of Blockhead trending on Facebook, thank you. The internet is a crowded place. It's full of distractions, advertisements, and lately, politics. We're surprised and encouraged that our little Project Blockhead had a chance to be noticed and shared so widely.
As Blockhead day approached, so did a mild apprehension. Would anyone (besides our parents) want one?  Our first production run covered our best hopes for Blockhead, and was expected to last at least a few months.  Two weeks later, thanks to immense interest, those units are all spoken for. New orders placed after March 24 will ship from our second production run.  This time, we're making a lot more.   
Now that we have a better understanding of how useful Blockhead can be, we're researching other regions outside of North America where it may be helpful. If you'd like to see this happen, join this email list and take the survey about your preferred plug type (you'll see it after joining the list).
Thanks again for your support of this new idea!
Tweet
The Autograph iOS library has been updated to v1.6.3 (build 35) to support iPhone's spiffy new 3D Touch and iPad Pro's Pencil. So how is this pressure data used? While accepting a signature, pressure and pen velocity are blended to produce a natural, realistic representation. The overall result is subtle and pleasing, and we've worked to ensure consistent results between newer devices and those without pressure capability. Beyond that, the library returns 3 additional properties for each point in the signature. They are pressure, azimuthAngle, and altitudeAngle. The last two are available when a signature is created with an Apple Pencil. Show release notes
New

T1SignaturePoint now reports pressure, azimuthAngle, and altitudeAngle when available.

Fixed

Irregular stroke width terminations when drawing using a mouse in the simulator.
Note: if you're using CocoaPods, your podfile should show something similar to:
pod 'T1Autograph', '~> 1.6'
Latest library and demo project Release history for T1Autograph
Tweet
For most of 2015, my family and I have been living and volunteering in Guatemala City, Guatemala. Often referred to as "the land of the eternal spring", Guatemala is a beautiful, mountainous land with a wonderful climate. Guatemala City sits in the midst of these mountains. Our backyard is a lush green ravine, full of ever growing bamboo, vines, banana trees, and mosquitos. When we first arrived, two months before the rainy season started, we began to hear cautionary stories about all the trouble that can be caused by the eight-month-long wet season. The gist of the warnings was: when it rains, the earth moves. Mountainous roads could be overrun with debris or even washed away completely. Creeks become flooded and expand their banks. Roads will flood and be impassable. On a recent trek out to small lake town, we encountered this first-hand as we drove through a small creek for lack of a bridge that had been washed out (yay for Jeeps). As September came to a close, it seemed as though this wet season had safely come and gone. On October 1st, a torrential downpour caused a deadly landslide in a small suburb town called Santa Catarina Pinula. This tragic event is the largest landslide Guatemala has seen in recent history, burying homes in earth as deep as forty-nine feet. Currently, there are 220 casualties, while an estimated 300 are still missing. Thousands of volunteers and rescue workers have been working around the clock, manually digging through the 120,000 tons of dirt in search of survivors. I find myself inspired by their courage as they dig, carefully removing dirt one bucket at a time, hoping beyond hope that each person they find will miraculously still be alive. No doubt it will take weeks--if not months--to remove the dirt and account for those that are still missing.
Photo: USA Today
Before last week, the idea of risk existed; now the reality stands at the forefront of our minds. Tragedy occurred just one mile from our house, literally a little too close to home for our comfort level. This could have been our story, our ravine that collapsed, our home that was buried, our family and neighbors being searched for. My mind is constantly filled with terrifying scenarios and questions that cannot be answered. This sudden tragic incident has forever changed the lives of hundreds of Guatemalans. Most have lost everything they have, with no insurance to help replace it. It's been incredible to watch as the locals have come together to provide emergency relief in this critical time.

Photo: Reuters
We, too, are joining in the effort. This weekend, my family and I will be gathering our donations of clothes and water. This month, Ten One will be taking action and asking for your help to provide relief support for this community. The Guatemala National Coordinator for Disaster Reduction (known as Conred) has set-up relief shelters and is coordinating supply donations for the survivors. We are committing to designate 10% of our gross sales during the month of October to purchase supplies like water, clothes, and food. Through these simple donations, we can help rebuild a broken and impoverished community.

T1PogoManager SDK for Pogo Connect has been updated to v1.4.3 (build 49) with support for iOS 9 GM. Please note: This release includes LLVM bitcode embedded within the binary, and will therefore cause linker errors in Xcode versions lower than 7. Xcode 6 users can download a special build with bitcode stripped out here. This update includes only a few minor bug fixes for v1.4.2 released last month. There are no API changes in this update. See the release history for the minor API changes in v1.4.2. The next SDK update is penciled in for fall 2015.
Show release notes
Fix

Missing T1PogoManagerDelegate connection messages in iOS 9 when using a singleton pattern are now delivered correctly.
Crash in iOS 6 when a bridged pen is connected is now fixed.
Unnecessary warning messages during build have been eliminated.
Latest library and demo project Release history for T1PogoManager
Tweet
A while back, we did a write up about All the Best Places for using Mountie. Since then, Mountie has made some pretty awesome appearances in the wild. We caught up with a few customers to learn more about their setup and see how they are using #mymountie.
1. Ken: Casual travel day with Mountie in Ethiopia;
Q. How often do you travel? A: I travel to Ethiopia and Vancouver, Canada a couple of times a year. Which ends up totaling up to 40-50 days on the road a year. Not to mention traveling for vacations. Q: How have you used Mountie while traveling? A: I primarily use Mountie to set up a dual screen with my iPad Air 2. It helps me have a screen for messaging or FaceTime/Skyping with family and those that I'm working with or having a book cued up so I can copy and paste into my writing. Q: Is there anywhere else you like to use Mountie? A: If not on a plane or in an airport, then it is usually pulled out and used in coffee shops where I get asked about it all the time. Q: Favorite type of spots to work while on the road? A: I'm such a people-watcher that I try and find a central coffee shop or pub to hang out in and work.
2. Faris: The office of all offices.
When this popped up on our radar, we just had to learn more. Q: How many days a week do you work from home? A: I own a few companies; I am self-employed, and as such I work primarily out of my house (cyber security is my primary niche). Q: What apps do you use when your mobile devices are "Mountied"? A: Primarily Duet Display, Colloquy IRC, and Tweetbot Q. Is there anywhere else you like to use Mountie? A: Anywhere I take my laptop, I take my Mountie. Most recent usage scenario that made my Mountie a lifesaver was Apple's WWDC.
3. Coders in Black: The international commuter
Q. Where are you living/working from right now? A. I'm living in France near Grenoble (capital of the Alps), and I'm working all over the world with @CodersInBlack. Our basecamp is on the French Riviera where our core team is located. Q. Favorite type of places to set up your #nomadoffice? A. We usually rent places on airbnb for the team; we use it as an ephemeral start-up office for a week of hard work. My favorite type of places as #nomadoffice are villas with huge perspective (as we work like 15 hours a day on small screens); one of my favorite working places was a really friendly cottage in front of Mont Blanc in the Alps. Q. Is there anywhere else you like to use Mountie? A. Currently I'm using at least 2 Mounties to fix a 2nd screen on my laptop vertically (like picture below) everywhere I have to work for more than an hour. and a 3rd Mountie to fix a mobile device if I have to work on mobile application or responsive website. Q. Most unique place/country/town you've used Mountie? How do you choose your next destination? A. We rented an amazing flat in Cannes in front of the Palais of Festival a few weeks before the International Cannes Film Festival. It was a really nice and unique location to work. In may we also work in Kiev, which in this critical time of high tension in Ukraine was for us quite unique. We choose our next destination by a common agreement between our customer and the team (we have currently planned outside of France : Frankfurt in Germany and London in England).
4. John: The Casual Coffee Shop.
"I have a thirteen inch retina MBP and an retina iPad mini which become tethered friends via the Mountie. At home, I have a twenty-three inch monitor on my desk, so I often work there in the afternoons with a dual screen setup. It's when I'm not at my desk that the Mountie has had two particular uses for me: 1.) In the mornings, I'm often in a coffee shop, and I've found the Mountie a lovely way to extend my screen to the iPad Mini as a second monitor. I use an app called Duet Display, which converts the iPad mini to a second monitor via lightning cable, so it's more reliable than the previous wi-fi monitor extenders I'd tried in the past. Now I can do some of the work sitting in a coffee shop that I used to feel like I didn't want to touch until I was back at my desk with the second monitor. 2.) In the evenings, I've found it useful on the couch with the iPad again clipped to my MBP. Rather than a second display, I use the iPad to play media while doing more casual work. I've used it to watch a baseball game (since my wife had the TV monopolized with So You Think You Can Dance). But I've also used it to watch training videos from Udemy, so that I can watch the video while trying what I was seeing right only a few inches away on my MBP display."
A big thanks to Ken, Faris, Coders in Black and John for sharing more about their setups!
Tweet