I have a fraying cord. It's a little bit badge of honor, because it reminds me of just how long my MacBook Pro has lasted. On the other hand, it provides power only intermittently. If your cord is like mine, maybe I can help you fix it.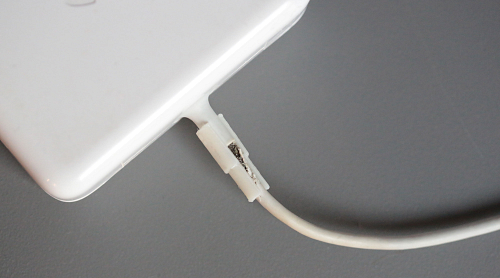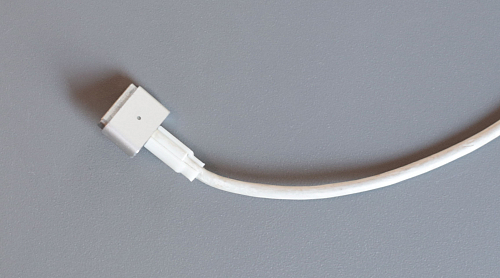 Photos: Peter
See that little sleeve over the frayed area? It works like a cast over a broken bone. The sleeve immobilizes the damaged area and transfers the bending stress to a working area. It'll work for both ends of the cord, but I like to trim away some material when attaching it to the magnetic end. While not a perfect fix, it's a lot cheaper than replacing the entire power adapter.
How to get one?
You might know someone with a 3D printer. Your local school, library, or workplace may have a 3D printer. Maybe there's a maker space in your town. If so, that's great; this is going to be free! Downloaded the .STL file from Thingiverse and send it to that printer.
If your makerbot is out of filament [sad makerbot face], or your 3D printing friend just moved out of town, check out our listing at Shapeways. The clip is available for under $2, and you can get it shipped in the US for another $5. I think this is too expensive, so ask around again for a 3D printer.
This tiny clip doesn't have a name yet. I was thinking "freeze fray" or "undo wear." Never mind, those are terrible. Maybe you can help think up something better. Holla/tweet suggestions or improvements to @psidentity. Hope you've found this helpful!
Tweet