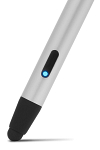 We discovered an error in our deployment script that prevented iOS 5-compatible binaries from being included in the last release. Apologies if this caused you any headaches. This release is nearly identical to 1.3.2 from November '12 with the following changes:
Release notes:
Fix - Now includes proper iOS 5-compatible binaries.
Fix - The pen's data storage index could become corrupted if many applications attempted to store data on the pen. This release corrects the problem, and repairs any broken data indexes it finds.
Add - The standard pen information popover now includes the pen's hardware revision.
Change - Build number 38.
Latest library and demo project Release history for T1PogoManager
Tweet