2015 Winners
Rules
Prizes
2015 Gallery
Contest

2015 Winner: Wild Red Deer by Ismael Reyes
Ismael Reyes is a 20-year-old current college student, studying to become an electrician. Having been drawing at least 5 years, arts are his passion. His dream is to work with an animator company to develop video games. He plans to keep practicing his skills in order to reach that level of expertise.
Facebook:
Ismaelreyesartwork
Instagram:
ires_14
Congratulations, Ismael!
2015 Category Winners
These artists are winners for the four contest categories.


Previous Art Contest Winners
In addition to this year's winners, you're also welcome to browse those from previous years.

2014 Winner: Memories by Jaime Sanjuan
Jaime is a 1981-born Spanish digital artist. He graduated in Fine Arts in 2006 and is currently writing his doctoral thesis on art and new technologies.
You can see more of Jaime's mind- and space-bending work on his personal site, including a few prints available of his delightfully conceptual art.
Website:
jaimesanjuanart.blogspot.com
Gallery:
direct link
Twitter:
@jaimesanjuanart
Congratulations, Jaime!
2014 Category Winners
These artists are winners for the four contest categories.


2013 Category Winners
These artists are winners for the four contest categories.
Gallery
Gallery
Gallery
Gallery
2013 Honorable Mentions
These works were picked as honorable mentions by our judges.
Gallery
Gallery
Gallery
Gallery
2010 Winner: Fast Food
Olechka (Olga Shvartsur) is a Seattle-based, self-taught portrait artist. She created this entry with an iPad, Brushes App, and a Pogo Stylus. Congrats, Olechka!
Olechka's website
shows the crazy details, and a making-of video.
Gallery
Gallery
Gallery
Gallery
Gallery
2009 Winner: Balloons
Goro is a talented Dreamworks animator who created this scene using an iPhone.
Gallery
2009 Honorable Mentions
These amazing images were all close runner-ups in the 2009 contest.
Gallery
Gallery
Gallery
Gallery
Gallery
The Rules, Briefly:
Artwork (including underlying artwork elements) must be original, digitally created with a Pogo-branded pen, and may not include any copyrighted material, or trademarks or logos owned by another party..
Contestants must be at least 15 years of age.
Ten One Design will only accept submissions made between July 13, 2015 and August 31, 2015.
You retain the right to your art, but agree that we can post the winning art on our website and in other forms as we see fit, indefinitely (of course, you'll always be credited as artist).
A valid entry includes your name, email address, mailing address, telephone number, date of birth.
The grand, single prize is an Apple Watch Sport, $100 iTunes gift card, and Corel Painter 2015 for the submission we like best. Four additional category winners will each receive prizes. Prizes will be announced September 15, 2015.
If we are unable to contact you, we will transfer the full award and win to another contestant.
Keep it clean and friendly; we will not accept submissions we think are inappropriate or derogatory.
Contestants may make up to three entries, but multiple submissions don't increase your chances of winning. Each submission must be unique.
See

OFFICIAL RULES

for full details.
OFFICIAL RULES
NO PURCHASE REQUIRED TO ENTER OR WIN
      ELIGIBILITY: The Contest is open to any individual 15 years of age or older. Employees of Ten One Design and their family members are not eligible. Subject to all federal, state and local laws and regulations. All U.S., federal, state and local laws and regulations apply. Void where prohibited by law.
      SPONSOR: The Contest is sponsored by Ten One Design LLC, 149 Chestnut Street, Montclair, NJ 07042 ("Ten One Design").
AGREEMENT TO OFFICIAL RULES: Participation in the Contest constitutes entrant's full and unconditional agreement to and acceptance of these Official Rules and the decisions of Ten One Design, which are final and binding. Winning a prize is contingent upon fulfilling all requirements set forth herein. Ten One Design reserves the right to terminate this Contest at any time.
ENTRY PERIOD: The Contest begins at 12:00 pm ET on July 13, 2015 and ends at 11:59 pm ET on August 31, 2015 (the "Contest Period"). Entries receive prior to or after the Contest Period will not be eligible.
ENTRY: During Contest Period, upload your artwork, no larger than 8mb in size, at http://tenonedesign.com/contest.php. Submission will result in one (1) entry. You may enter up to three submissions, but each submission must be unique. If more than three submissions are made, we will accept the first three received. The use of any agencies or automated software to submit entries will void all entries submitted by that person. 
Contest entries cannot be revised or altered once submitted. All submissions must be made using a Pogo-branded pen. Once submitted, all entries become the property of Ten One Design and will not be returned. Incomplete or inaccurate entries are void.
 Ten One Design has the right to disqualify any entries we deem to be obscene, vulgar, sexually explicit, lewd, derogatory, inappropriate, or otherwise not in good taste, as determined by Ten One Design at our discretion. Submissions must be 100% your original work, and must not contain any third party material or content (including but not limited to any company logos or trademarks, photographs, likenesses, film or video clips, music, or any other copyrighted or trademarked content) for which you have not been granted specific written permission for this use by the copyright or trademark rights holder. You grant to Ten One Design and its designees the irrevocable, perpetual, worldwide, non-exclusive right and license to use, reproduce, edit, market, store, distribute, have distributed, publicly and privately display, communicate, publicly and privately perform, transmit, have transmitted, create derivative works based upon, and promote your image (including photographs and video), biographic information, and comments, (collectively, the "Submission") in connection with the Contest and such other products or services as Ten One Design may designate in any medium now known or hereafter devised for editorial, commercial, promotional and/or any other purpose. In addition, Ten One Design has the right to reproduce and distribute your Submission for promotional purposes in broadcast, print and or other media as we determine in our sole discretion. You retain ownership of all right, title, and interest in and to your Submission. You agree that Ten One Design owns all right, title, and interest in any compilation, collective work, or other derivative work created by us using or incorporating your Submission. You hereby grant to Ten One Design the right to edit any of your Submission, in whole or in part. In addition, you hereby grant to Ten One Design and our designees the right to use any edited Submission, or parts of a Submission, without your approval and waive any right to inspect or approve uses of the Submission prior to or following publication and any right to compensation for the Submission. All elements of your Submission must be your original work and must be owned by you, and you must have the right to grant any and all necessary rights and licenses, including without limitation, all necessary copyright and other related rights to all of the materials, free and clear of all claims and encumbrances without violating the rights of any person or entity, including any right to privacy or publicity. Your Submission should not contain elements not owned by you (including but not limited to trademarks or logos). By submitting your Submission, you agree to release and hold harmless Ten One Design and our officers, directors, employees, and agents from and against any claim or cause of action arising out of your Submission or your participation in any phase of this Contest.
JUDGING: A panel of judges (the "Judges") will select one (1) Grand Prize Winner and four secondary prizes for superiority in each of the following: Current Events, Wildly Creative, The Way You See It, and Obviously Abstract. Decisions of judges are final.
WINNER NOTIFICATION: Ten One Design will attempt to notify winners via email. In order for winners to receive their prize, they must respond to the email within 48 hours and provide their full name, age, and mailing address. Failure of any potential winner to provide this information within the stated timeframe will result in forfeiture of the prize, which may then be awarded to an alternate winner. Limit one (1) prize per household.
PRIZES: One (1) Grand Prize Winner will receive an Apple Watch Sport, $100 iTunes gift card, and Corel Painter 2015. The four secondary prizes include mobile accessories, Ten One Design products, and various other items.
If it is found that we are unable to award prizes to the potential winner within 48 hours due to lack of response from potential winner, the potential winner's right to the prize will be forfeit and transferred to another entrant of Ten One Design's sole choosing. No cash or other substitution will be made. Winners are responsible for any taxes and fees associated with receipt or use of a prize.
*Any applicable cash will be paid in US Dollars. If winner resides in a country outside the United States, Ten One Design will make best efforts to send the money via PayPal. In this case, Ten One Design will only make payment to entrants in those countries to which payment is allowed by PayPal.
GENERAL CONDITIONS: In the event that the operation, security, or administration of the Contest is impaired in any way for any reason, including, but not limited to fraud, virus, or other technical problem, Ten One Design may, in its sole discretion, either: (a) suspend the Contest to address the impairment and then resume the Contest in a manner that best conforms to the spirit of these Official Rules; or (b) award the prizes from among the eligible entries received up to the time of the impairment. Ten One Design reserves the right in its sole discretion to disqualify any individual it finds to be tampering with the entry process or the operation of the Contest or to be acting in violation of these Official Rules or in an unsportsmanlike or disruptive manner. Any attempt by any person to undermine the legitimate operation of the Contest may be a violation of criminal and civil law, and, should such an attempt be made, Ten One Design reserves the right to seek damages from any such person to the fullest extent permitted by law. Ten One Design's failure to enforce any term of these Official Rules shall not constitute a waiver of that provision. In case of a dispute as to the owner of an entry, entry will be deemed to have been submitted by the authorized account holder of the screen name from which the entry is made. The authorized account holder is defined as the natural person who is assigned to an e-mail address by an Internet access provider, online service provider, or other organization responsible for assigning e-mail addresses for the domain associated with the submitted e-mail address.
RELEASE AND LIMITATIONS OF LIABILITY: By participating in the Contest, entrants agree to release and hold harmless Ten One Design from and against any claim or cause of action arising out of participation in the Contest or receipt or use of any prize, including, but not limited to: (a) unauthorized human intervention in the Contest; (b) technical errors related to computers, servers, providers, or telephone or network lines; (c) errors in the administration of the Contest or the processing of entries; or (f) injury or damage to persons or property which may be caused, directly or indirectly, in whole or in part, from entrant's participation in the Contest or receipt of any prize. Entrant further agrees that in any cause of action, Ten One Design's liability will be limited to the cost of entering and participating in the Contest, and in no event shall Ten One Design be liable for attorney's fees. Entrant waives the right to claim any damages whatsoever, including, but not limited to, punitive, consequential, direct, or indirect damages.
DISPUTES: Except where prohibited, entrant agrees that any and all disputes, claims and causes of action arising out of, or connected with, the Contest or any prize awarded shall be resolved individually, without resort to any form of class action, and exclusively by the appropriate court located in the State of New Jersey. All issues and questions concerning the construction, validity, interpretation and enforceability of these Official Rules, entrant's rights and obligations, or the rights and obligations of Ten One Design in connection with the Contest, shall be governed by, and construed in accordance with, the laws of the State of New Jersey.
CONTEST RESULTS: The winning entry will be posted on Ten One Design's website on September 15, 2015.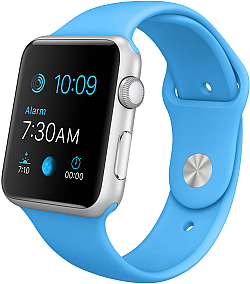 Lots of great reasons to enter
We thought this should be worth your 'time', so we collected some of the best gear around. As you may have surmised, one of the prizes is an Apple Watch.
Another prize we're so excited about is a full pro license of Corel Painter 2015. Big thanks to Corel for making this possible.
Learn more about Painter 2015
Grand Prize Winner

Corel Painter 2015: $429
Apple Watch Sport $349-$399 (you pick the color and the size)
iTunes gift card $100
Category Winners

Two Category winners will receive: 1 Mountie, 1 Magnus Air, 1 Kenu Airframe. Prize value; $95
Two Category winners will receive:Pogo Connect 2, B3 brush tip, R2 tip pack, Smart clip. Prize value; $115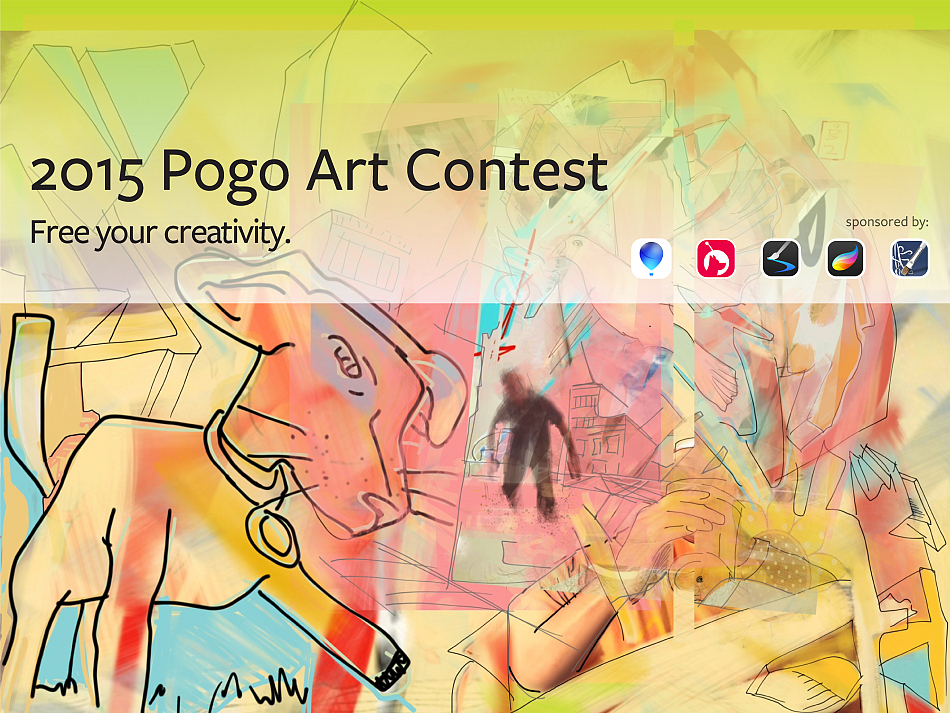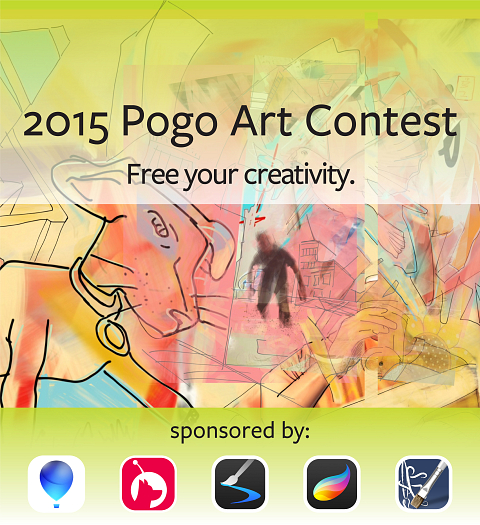 Dog Walking/Dog Chasing by Jason
Final Whistle
The 2015 Pogo Art Contest is officially closed! The 2015 winners have been chosen by our judges. You can see their work in the Winners tab above. We would also like to invite you to spend time looking through the gallery

Congratulations to Ismael and the other winners!

Sharing and celebrating creativity
Since 2009, the Pogo Art Contest has given you the opportunity to show the world what you can do. This year is no different.

If you've participated in the past, you'll know this is a simple and fun contest that is free to enter and gives you a chance to show off your skills to a wide audience.

Once again, we've set up an amazing list of prizes for both the overall winner and each category winner!


How to Win
Listed below are the categories we'll be considering. For each category, we will choose a winner. The Grand Prize will be rewarded to the entry that most impresses our esteemed judges.
Current Events

For anyone who is posting satirical or thoughtful explorations into world events, politicians, news of the day, journalistic.

Wildly Creative

This is for out-of-the box thinking, such as using an app not necessary or intended for making art. Or using a variety of apps (app mashing) in a very creative way. Something that no one has done before. Also could include collaborative efforts with more than one artist.

The Way You See It

Representational, realistic/impressionistic art goes here; this includes landscapes, still lifes and portraits of people, aliens and pets.

Obviously Abstract

No explanation needed.
Let's meet the judges
Will researching their taste improve your chances? Who knows, but you'll have a lot of fun browsing their work!

Susan Murtaugh, aka suzi54241 on Flickr, is a graduate of the Chicago Academy of Fine Art. She's worked over 40 years in advertising and graphic design, including 25 years as Principal of her own design firm. She's used every traditional art medium. Since 2009, her preferred tools are her iPhone and iPad. She's been featured in several group shows, online galleries, workshops and in local and international news. Her work and tutorials have been featured in Digital Artist Magazine and online. She has curated several international digital art shows, and has served for 3 years as Artist in Residence for her county's public schools. She loves teaching others the joys of mobil digital art.
Susan resides in the Town of Two Creeks, WI with her husband and son.
See her work at:
http://www.flickr.com/photos/suzi54241

Deborah is a Retro-Surrealist who draws inspiration from the 1950s: an era of neon, shell chairs, drive-ins, flying saucers, and the Twilight Zone. A classically trained artist with a degree in fine art from Arizona State University, Deborah ran Central Arizona College's printing department and then the Rural Arts Project fine arts serigraph printshop in Pinal County. She was a member of MARS Artspace, 15 years as a participating artist and five years as Artistic President and curator. In 2009, she discovered iPhone painting and a like-minded group of artists on Flickr. Since then, her digital work has shown internationally. Deborah curated the ongoing "We Were Only Wainting" at the I.D.E.A. Museum in Mesa—30 International Artists working on digital tablets. The iPad is an endless creative studio in your hands always ready to go.
See her work at:
hotelmidnight.com
and
http://www.flickr.com/photos/hotelmidnight/
.

Brian Miller is the founder of
Hi-Fi Colour Design
and the pop-culture propaganda poster art collective known as Oktopolis. Most widely known for their work in comic books from Marvel, DC, and Image, Hi-Fi's work also appears in games, toys, theme parks, film, and television. Brian's iPad artwork has been featured on the covers of Star Trek novels and Star Wars fine-art lithographs as well as comic books, magazines, and as film poster art. Brian & his wife Kristy are the authors of several Hi-Fi Academy art instruction books and also provide live workshops at comic-cons, museums, and schools as well as digital art tutorials.
See his work at:
http://www.facebook.com/HiFiColourDesign
.
A big Thank You to our sponsors
The 2015 Pogo Art Contest is sponsored by the following applications.
We'd like to thank them for their participation, and if you haven't had a chance to try out one of these apps, now is a great time.

Corel® Painter® 2015 is the most authentic paint program for the classroom, featuring brushes, paper textures and art media that look and feel just like the real thing.
| | |
| --- | --- |
| Pen pressure | |
| Palm rejection | |
| iPad 3rd/4th generation | |
| iPad 1 & 2 | |

Get creative with paint without the mess and expense! Explore a packed toolbox of intuitive, natural painting tools like oils and watercolors that let you experiment with color blends and textures on a realistic canvas. ArtRage places the tools of a real art studio at your fingertips.
| | |
| --- | --- |
| Pen pressure | |
| Palm rejection | |
| iPad 3rd/4th generation | |
| iPad 1 & 2 | |

Procreate is the most powerful and intuitive digital illustration App available for iPad. It's packed with features artists love, from true-to-life sets of pencils, inks and brushes, through to advanced layer compositing, 64-bit performance and unique digital tools. And it isn't just iPad friendly – it's an iPad exclusive.
| | |
| --- | --- |
| Pen pressure | |
| Palm rejection | |
| iPad 3rd/4th generation | |
| iPad 1 & 2 | |

Inspire Pro's proprietary painting engine Sorcery™, based on OpenGL ES 2.0, takes full advantage of the GPU to render brush strokes with brilliant 64-bit color, laser-sharp sub-pixel precision and incredibly fast speed. Whether you are a beginner, expert, or somewhere in between, you will enjoy the simplicity and power of Inspire Pro.
| | |
| --- | --- |
| Pen pressure | |
| Palm rejection | |
| iPad 3rd/4th generation | |
| iPad 1 & 2 | |
Help us spread the word!
Help us get the word out by tweeting or posting about our little #pogocontest. We've also made a graphic you can post on your site during the contest.
Contest Banner
Contest Poster